Explore Diving in Maldives
As the fourth annual PADI AWARE week made another huge splash throughout the world's diving communities late last month, the events' goals – to conduct local conservation activities for a global impact – were as important to the tiny Indian Ocean island of Rasdhoo as anywhere.

Nestled among the string-of-pearl atolls that make up the Republic of Maldives, whose territory is more than 99% ocean (much of it, a brilliant turquoise), Rasdhoo has developed a thriving dive culture in recent years, with no less than seven dive centers on an island measuring less that 1 square km, with a local population of just over 1000.
So, for the inhabitants, a beautiful and healthy ocean is not only vital for tourism and the fishing industry, but in fact forms the very bedrock of their coral archipelago which, with an average elevation of just 1.6 metres above sea-level, is facing the climate crisis head on.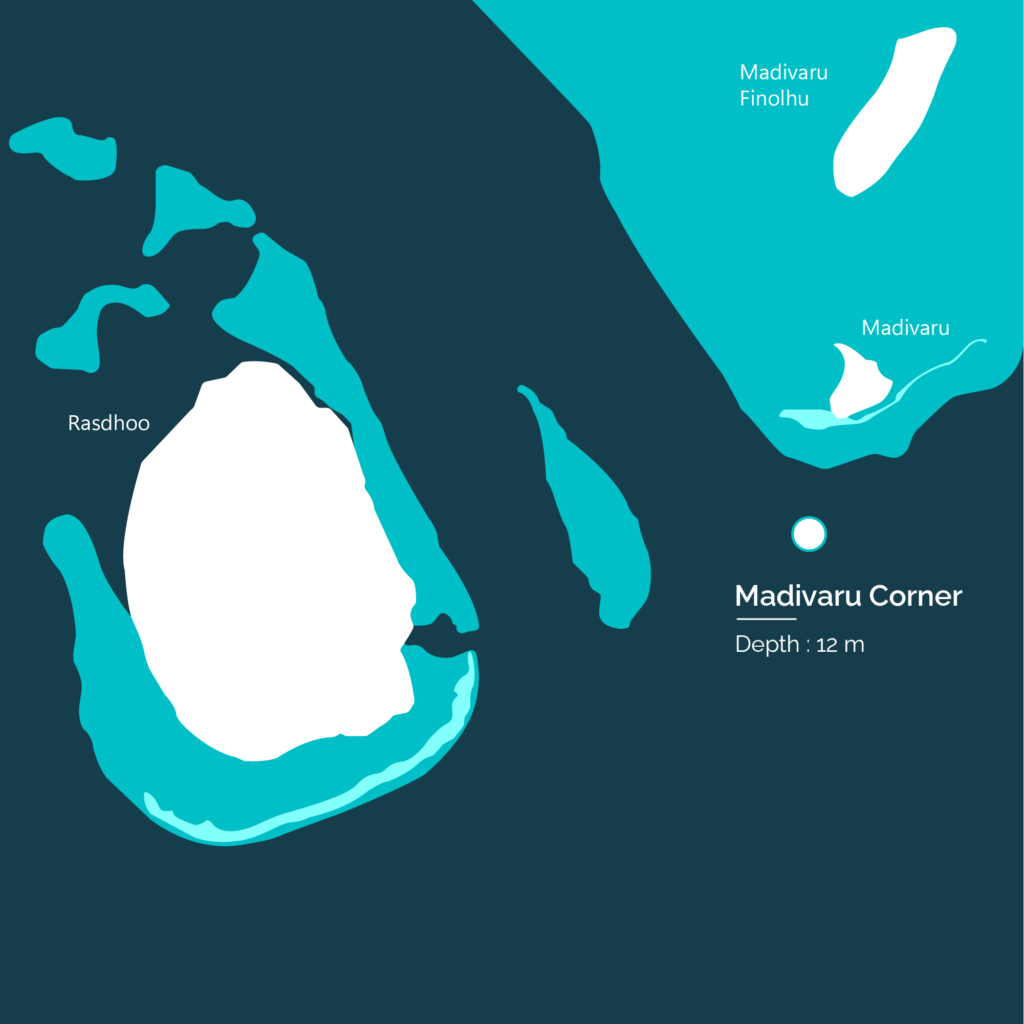 Madivaru corner located eastwards in the channel between Rasdhoo and madivaru. Madivaru is the name given to the small island on the east of the channel.
Boat ride of only 8 mins from Rasdhoo island.
Our dive site stars from madivaru reef, the south east corner reef slopes down to a ridge at 10 – 12 meters. Narrowing as it stretches more deeper towards west side. After a sandy reef top at 21 meters the ridge shallows up to the depth of 18 – 20 meters. East and south facing towards atoll drop off at 70 meters. Then 100 meters deep into the abyss.
Reef formation similar to an underwater mountain (pinnacle) topping at 18 meters situated in the middle of the channel. Another pinnacle inside the channel where the top reef is at 10 meters. This pinnacle stretches to north east bringing us back to madivaru reef. In between is a sandy plateau at 32 meters.
It is a drift dive where the ocean current would be from east to west or from west to east. It's also a hook on and watch dive. Waiting at the top reef at 18 meters. A dive site for all levels of divers.
With immense amounts of hard & soft corals abundant different species of tropical reef fish. This dive site is ranked no.1 site in north Ari atoll and close to central area, where you can find schooling of grey reef, silver tip sharks and fleets of eagle rays.  During north eastern monsoon hammerhead siting are very likely for this have been the chosen site for hammerheads in it's prime. From individual to schools have been recorded.
In addition to the mentioned Sweet lips, snappers, trevally, moray eels, ribbon eel, octopus, napoleon, turtles, sting rays, scorpion fish, mantis shrimp, leaf fish, fusiliers, white tip reef shark, black tip reef shark, barracuda, dogtooth tuna, nudibranch and many more possibilities of macro life from this dive site.
And even more to expect from the site.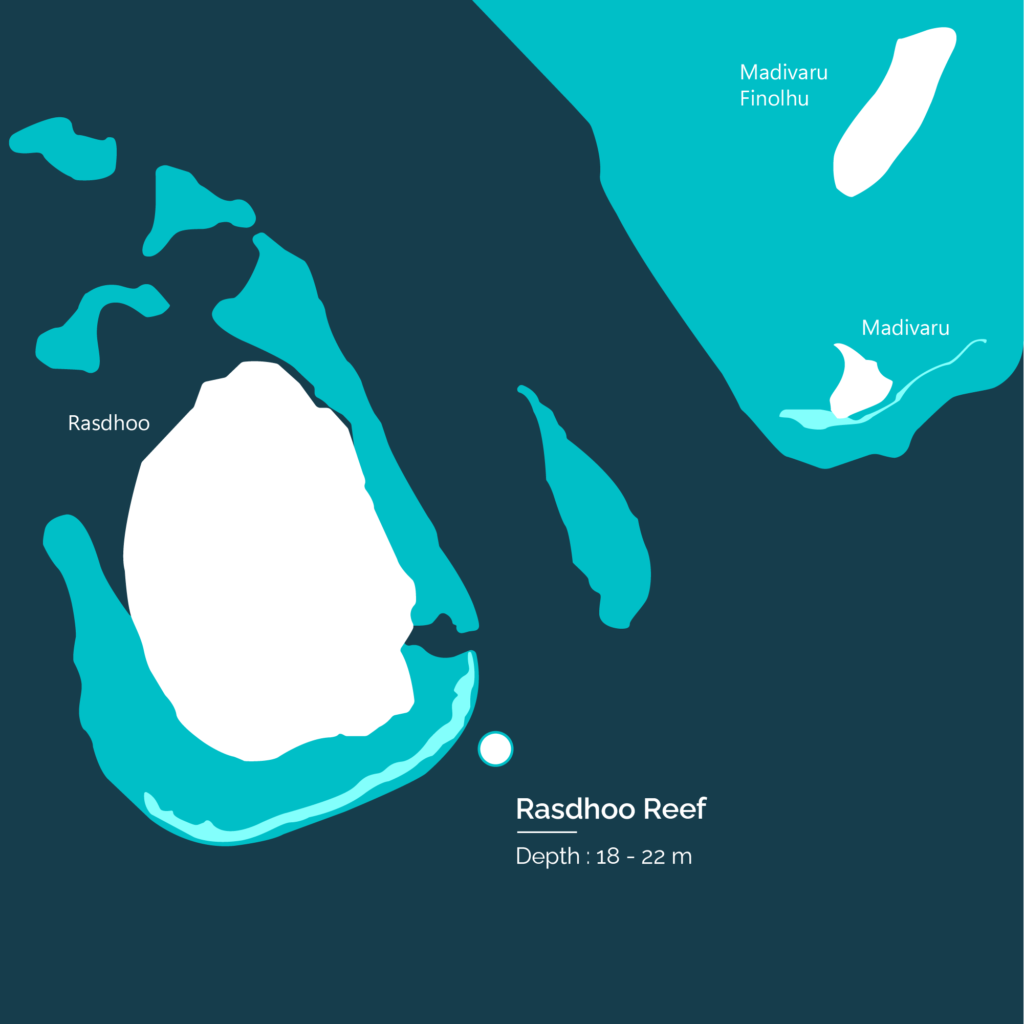 Rasdhoo reef is located on south eastern side of Rasdhoo island
From the eastern house reef's drop off, Reef slopes down to a sandy plateau of 30 meters, after a stretch of sandy bottom structures more like underwater mountains (pinnacles) starting on the edge of atoll drop off raising up to the depths of 18 to 22 meters. Width of 8 meters on all 4 pinnacles.
When current incoming reef to your right hand start the dive from Rasdhoo eastern wall. On reef formation a finger from the reef stretching eastward. After this on the southern side the reef rises to pinnacles on the edge of the reef.
When it is out going currents if it's moderate to small then you could dive same as the planned incoming current. If stronger currents it's advisable to start the dive from the deeper edge of the south western side. On the starting edge of Rasdhoo channel.
These pinnacles have very good hard coral life mainly on the top reef. And the up current side of the pinnacles are livelier with sharks and schooling fishes.
It is a drift dive where the current will take the divers from west to east or from east to west. If stronger currents are experienced then this is the perfect dive for hook and watch.
Since the eastern side is facing towards the open ocean side of the atoll here when in north eastern monsoon, we have possibilities to see schooling of grey reef sharks, silver tip sharks, fusiliers and barracuda. Fleets of eagle rays. Addition to sweet lips, snappers, bat fish, trevally, moray eels, octopus, napoleon, turtle, sting rays, scorpion fish, mantis shrimp, white tip reef shark, dogtooth tuna, nudibranch.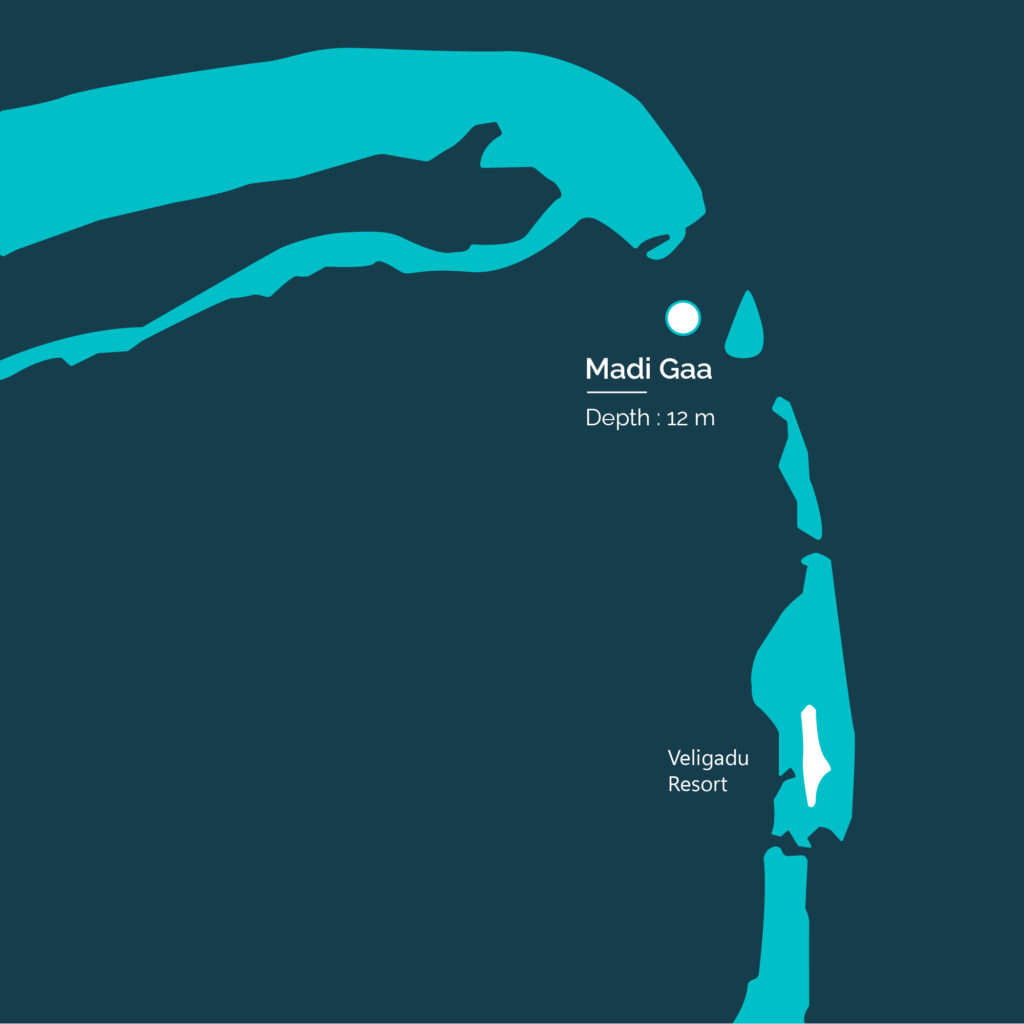 Madi when translated to english means "manta" and Gaa it's called "rock" in Dhivehi. Madi Gaa is a seasonal cleaning station for manta. Starts from October until late march.
The dive site is on the inside of atoll, located around the area of northern channel. From Rasdhoo boat rides are 30 mins / 10 mins by speed boat.
It is a huge block of coral composed by a hard-coral species named as Porites lobate. The top of block starts at 8 meters. This block lays on a sandy bottom that gradually slopes from the depth of 12 to 18 meters.
When the current directions are outgoing from the atoll, cleaning station can be much active than in incoming current when the visibility is better. Chances for manta siting in both current directions.
Cleaning station are residentials for cleaner wrasses living amongst the undercuts, cracks and holes on top and around the coral block. Once the mantas are situated on top of the block cleaner wrasses can be spotted rushing to eat off parasites, bacteria and dead skin cells from the belly and body of manta. They can also be seen cleaning different species of reef fishes.
It is very important that divers NEVER swim on top of the block for this can scare away manta. They need to get cleaned not YOU. At least 2 meters away from the block is advisable for swimming around.
The whole dive depends on mantas they could give you a show for 5 to 70 mins, or longer depending on the conditions.
In addition to Mantas. Being able to spot garden eels, ghost pipe fish, turtle, moray eel, black tip reef shark, white tip reef shark, nurse shark, napoleon, trevally, snappers, fusiliers, shrimps, nudibranchs, sea slug and flat worms are possible. You could expect even more from this site.
PADI SCUBA DIVING COURSES
Learning to dive is one of the most rewarding experiences of your life. Earning your PADI certification will forever change the way you see the world, both above and below the surface.
Divers who become dive professionals agree that choosing diving as a career does not feel like working because they do what they love for a living!
A quick and easy introduction into what it takes to explore the underwater world. Although this is not a scuba certification course, you'll learn all the steps it takes to be a PADI certified diver.
Diver certification begins here. Course contains knowledge development, skills practice in confined water and experiencing four open water dives.
ADVANCED OPEN WATER DIVER
Take this course after completing PADI Open Water Diver certification. It's titled Advanced Open Water Diver because it advances your diving knowledge & skills.
EMERGENCY FIRST RESPONDER
Discover steps to follow for emergency care. Builds confidence in lay rescuers increases willingness to respond when faced with medical emergencies.
Learn to prevent and manage problems in the water, and become more confident in your skills as a diver. It's challenging, yet very rewarding.
Be a leader who mentors and motivates others. Gain dive knowledge, supervision abilities, and become a role model to divers around the world.